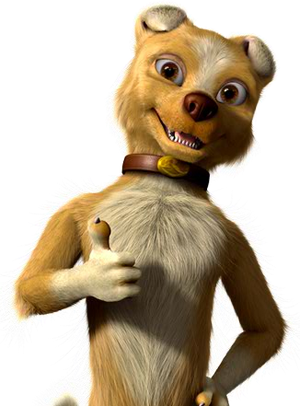 Romeo
Background Information
Feature films
Roadside Romeo
Shorts
TV shows
Video games
Books
Roadside Romeo (Comic Book)
Voiced by
Saif Ali Khan
Character Information
Species
Mixed breed (Dog)
Gender
Male
Also known as
Appearance
Golden-brown fur, brown eyes and nose; beige paws, belly, chest, ears, tip of tail, and face spot; leather collar, red bandana, black and gold bandana
Fate
Owner of Romeo's Salon, presumably mate to Laila
Quote
Main Hoon Romeo!
[Source]
Romeo is the main protagonist of Roadside Romeo.
Biography
Edit
Romeo is a high-class and very cute mixed breed dog. He is very clever and can find a way out of any bad situation that he gets himself into. He is very talented at singing, dancing, and grooming. He owns a grooming business called Romeo's Salon. He is Laila's boyfriend and friends with Guru, Hero English, Mini, Interval, and, at the end of the film, Charlie Anna.
Personality
Edit
Romeo started out in the beginning of the movie by being rich. He was pampered and given everything he'd ever wanted. He was never denied anything so he grew up as spoiled. But when he is kicked out of his home he has to learn to improvise as he was kicked out because his owners got a new dog and went to London. Towards the end of the movie he realises that life isn't just about getting what you want, it's about working hard for everything and everyone around you. He becomes very kind-hearted and faithful towards his friends and to his future girlfriend Laila. He was even thoughtful enough to sacrifice himself to the dog-catcher to save his rival Charlie Anna. It just goes to show that even a soiled personality can be modified.
Relationships
Edit
Romeo is best friends with Guru, one of the four strays. Romeo tends to seek advice from him often. He had a bitter rivalry with Charlie Anna, but they eventually smoothen things out and became friends. However, his rivalry with Charlie Anna's coyote sidekick Chhainu never really did end.
Romeo, before he and Anna became friends, liked to defy and sly his way out of Anna's laws.
Clothing/Outfits
Edit
Romeo doesn't really wear clothes, but he does wear a
fancy leather
collar
with a golden tag. The tag has his initial engraved into it.
He later ditches the collar for a r
ed bandana
that his friends gave him, as a thank-you for helping them change their ways. At the end of the film, he wears a Hindi tattoo saying Laila on his right forearm.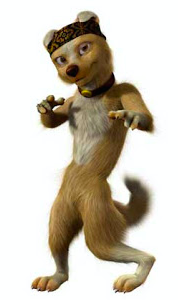 Coming soon!
"Dude, I love her!"

"ROMEO'S IN LOOOOOVE!"

"O Laila, O Laila!" (singing)
"Dude, who the heck is Charlie Anna?"
"I love you." (to Laila)
Without Laila, there's just no point.
References
Edit
Coming soon!